Dear Holiday Guests!
We have a large selection of comfortable apartments and holiday homes, for families with and without children. Choose your accommodation according to your wishes. Whether directly on the edge of the forest or in the immediate vicinity of the town center.
If you appreciate the pleasant atmosphere of an upscale decor, then our apartment Alpenschloss, or the apartment Paul in the DORINT Sport Hotel, Wettersteinblick in Hotel Mercure are just the thing for you. A special setting, suitable for weddings and family celebrations offers the Villa Zugspitzschloss in the Bavarian mountains.
---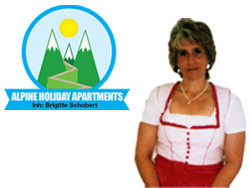 It is my concern that you will enjoy staying in one of our appartments or houses as well as the leisure facilities in and around Garmisch-Partenkirchen. I look forward with pleasure to greet you as a guest and I wish you a relaxing stay! – Brigitte Schobert